Knowing organizational behavior concepts will help you improve your employee retention rates and will decrease the costs associated with high turnover. Employee retention is measured by the rate at which current employees of your organization are staying in their jobs. Furthermore, retention is the opposite of turnover. Therefore if turnover is low, then retention is high. If you can decrease employee turnover you will decrease training costs, recruitment costs and the loss of talent and organizational knowledge.
Motivator-Hygiene
Herzberg, an American psychologist famous for introducing job enrichment and the Motivator-Hygiene Theory, is an influential name is business management. His theory focuses on job satisfaction factors, which are distinctly different from poor job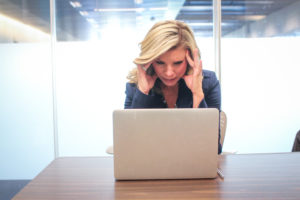 satisfaction and employee turnover factors. Herzberg's system of need is divided into motivator and hygiene factors. If lacking, Hygiene factors that create a sense of dissatisfaction include proper lighting, appropriate job tools, and proper sanitation facilities in office, for example. To maximize employee satisfaction and retention you must provide your employees with these basic hygiene factors.
The market has become increasingly competitive and quality candidates are in greater demand for recruiters. The departure of mid to senior level employees is costly and results in loss of productivity and extensive efforts to find a replacement. Therefore employee retention is a common obstacle for all organizations. Consider the following strategies to plan your recruitment and retention strategies.
Pay Incentives and Salaries
Compensation is one of the main reasons for employees to leave your organization. Annual salary increases help prevent staff attrition. As a result, 24% of large and 25% of medium and small businesses offer bonus and additional incentives to keep their staff. Employees that are financially motivated are more likely to look for other employment opportunities. Therefore, salary increases and incentives must be considered in your employee retention strategy.
Flexible Work Environment
29% of employees say a flexible work environment and good pay are two important motivators, according to a study by Robert Half. Organizations over the years have become more flexible and progressive. They offer split shifts, work hours customized to suit the individual employee's needs, and telecommuting to create a flexible work environment. Rather demanding schedules do not contribute to your employees' healthy work-life balance. However with innovation and technology advances employees can now work from home. They can use digital integration tools to remain in touch with the main office remotely. Cloud computing enables access to office files, documents and projects from any web-enabled device anytime, anywhere.
Career Growth and Development
Your business must be proactive about developing your employees' professional growth in order to keep your top employees engaged. Performance reviews are important for evaluating your staff's current role as well as preparing them for their next steps. Your professional development strategy may range from organizing business conferences with renowned speakers for panel discussions to training seminars and orientation programs to individual one-on-one coaching. All efforts help employees acquire greater insight about their work profiles and give them opportunities to learn and grow.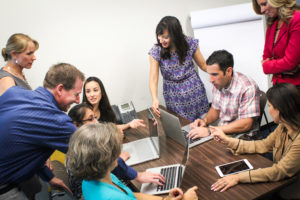 Mentoring Over Managing
Identify natural leaders in your organization to establish a culture of mentorship and growth. Give these leaders authority to manage a team of more junior employees that can learn from them.  As a result, they will set the tone by reviewing the work of their team, setting expectations and facilitating team building behaviors and activities. Delegating authority is an effective way to retain productive employees. The management team must be available and approachable for employees to turn to for coaching and problem-solving. Giving your employees the ability to communicate directly with your leadership team on a personal level fosters a positive work environment.
Offer Benefits
Based on Payroll Professionals research, 85% of employees consider flexible employee benefits important. You should develop diverse ways to value your employees such as a travel allowance, SODEXO cards, corporate discounts, increased pension and gratuity benefits, and health insurance coverage. In addition, recognize employees on a regular basis for their accomplishments. It can be as formal as an employee of the month award, or as casual as a thank you in a staff meeting. Both approaches are just as effective at fostering a sense of belonging.
Employee Retention
As observed by Forbes Magazine, aligning your employee's career goals with your organization leads to increased employee retention. Furthermore, money is important but it does not buy employee loyalty. Also, evaluation and recognition are key factors of staff retention. If you can implement these morale-boosting strategies, you will get your top recruits to stay!