Managing data effectively is essential to the success of any business, big or small. Today, Seeker Solution discusses what data governance actually is and why it's vital for the success of small businesses.
Understanding Data Rules and Policies
Data governance involves developing policies and procedures around the collection, storage, use, and protection of data. This includes setting up processes for monitoring and auditing data usage. It also determines who has access to certain information. Establish protocols to maintain integrity and accuracy in the data collection.
Enhanced Client Satisfaction
Data governance can help small businesses improve customer service. It ensures that customer information is current and accurate. This helps provide customers with better experiences when interacting with a business. They will have access to more up-to-date information about products and services. Furthermore, it ensures that customer interactions are more consistent across channels. This way, customers receive a similar experience regardless if they are shopping online or in-store.
Minimized Mistake Potential
Having clear guidelines in place regarding how data should be handled reduces the risk of errors that could occur during manual processing or human error when dealing with complex information systems. Additionally, having automated processes in place helps ensure that all necessary steps are taken to ensure accuracy when dealing with large amounts of data. This minimizes potential errors that can result in costly mistakes down the line if left unchecked.
Heightened Speed and Discretion
Data governance is a critical component of small-business success in today's competitive market. Through the use of data governance, small businesses can track changes and be more agile in their decisions, staying ahead of their competitors. Furthermore, data governance provides organizations with fast access to reliable customer, product, and service information.
Enhanced Competitive Posture
Good data management equips small businesses with market insights. It enables them to seize opportunities before competitors. It also helps to tailor marketing strategies based on customer feedback surveys and the latest trends. Thus, saving resources from ineffective action plans. As a result, data management strengthens competitive positioning in the long run.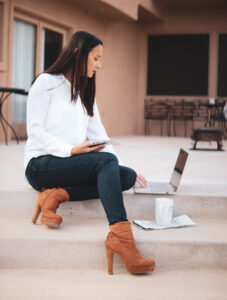 Seamlessly Connects with Real-Time Client Data Platforms
Data governance allows small businesses to easily integrate with customer data platforms such as Salesforce or HubSpot, gaining insight into client needs. These provide the information necessary to create tailored products and services while also tracking their effects on sales and revenue. With real-time customer data, small businesses can identify opportunities faster than their competitors.
You can also take advantage of online tools to make your job a little easier. For instance, if you have contracts that need to be signed – whether they're with customers, contractors, or freelancers – this tool allows you to fill out and sign PDFs online. This is not only faster and simpler but also makes it much easier to stay organized.
Data Governance is essential for small businesses seeking to remain competitive in the modern market. By utilizing data governance, companies of any size can track changes and make informed decisions quickly. It allows them to stay ahead of the competition and ultimately be successful. With data governance, small businesses gain access to valuable information that can be used to develop business strategies, improve customer service, identify trends, and maximize profits.
Seeker Solution is here to give entrepreneurs the support they need and deserve. Let us
know if you have any questions.