My job, (or life), description looks something like this:
Wife. Mom of five. Household CEO. Business CFO. Entrepreneur. Daughter. Sister. Friend. Volunteer. Director of child development. Chef. Event planner. Scheduler and play date organizer. Business operations specialist. Household operations specialist. Professional and personal accountant. Athlete. Housekeeper. And chauffeur.
You don't need to look at my productivity system and think that it needs to be your system! But you need a system to manage your time and help you get things done.
IDEA FILE SYSTEM – KEEPING ORGANIZED AND ON TIME
What good is an idea if it's stuck in your head or, worse yet, forgotten?
I rely on a task management system to help me tackle that never-ending "to do" list. When great ideas come to me, instinctive habits I've created over time keep me organized.
"The more systematic you are about capturing your ideas, the easier it will be to find inspiration for your next project or fodder for your next pitch meeting," writes Alexandra Samuel, Zapier.
Every single thing I do is programmed into my calendar with alerts. Voice memos also help me capture ideas so I can refer back to them.
Good 'ol pen and paper may do the trick. Although, depending on the nature of your work, you may need an app. And there's an app for that. Check out these 14 notes apps.
WEEKLY AND DAILY PLANNING
After I've collected all of my notes, I have to figure out what to do with them.
I further categorize ideas and tasks into "events", "tasks", and "maybe."
Making the time to sit down and organize all of these ideas is crucial to my weekly and daily planning. Even a few minutes to focus on this can save me hours throughout the week and prevent me from missing deadlines, meetings, and important events at work and at home.
Mind mapping is a way to organize your thoughts and brainstorm. A work diary, of sorts, can help you keep track of your successes, too! "Also, by writing about how you solve problems on a day-to-day basis, you can use the lessons you've learned to flesh out your ideas." Lifehacker
ACCOUNTABILITY PARTNERS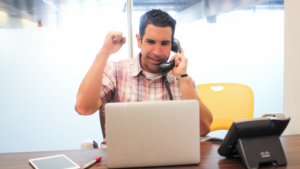 As a leader, if you don't have an organizational system for yourself, how can you possibly hold your team accountable for its actions?
A workout goal I had years ago is now fully implemented into my weekly routine and it has been for the last 3 years. How? I made intentional lifestyle changes and took proactive steps within my planning and organizational system to follow through and meet the goal.
But the key to my success is my own at-home accountability partner. My husband knows if I follow through on my goals. He's a non judgmental, safe person who holds me accountable and lets me solve those problems on my own!
MY CHALLENGE FOR YOU
What action step can you put into place RIGHT NOW, TODAY?
This action step could change your perspective on the choices you've already made. OR it can move you closer into alignment with where you want to be.
Maybe an idea filling system is the first thing holding yourself accountable to achieve your goals. Give it a try!